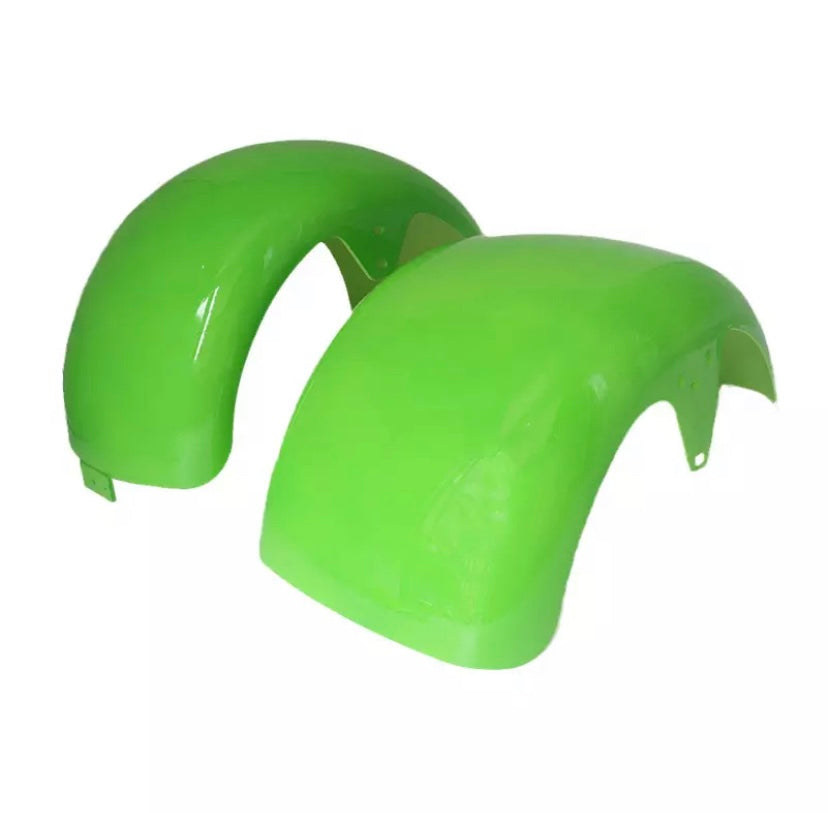 Green Fenders
Elevate Your E-Riderrs' Appearance with our Vibrant Green Fenders!
Introducing a striking accessory to enhance the aesthetics of your E-Riderrs scooter - our eye-catching Green Fenders! These fenders are designed to not only add a pop of color but also provide essential protection for your scooter.
Key Features:
Vibrant Green Hue: Infuse your E-Riderrs with a burst of color using our lively Green Fenders. This vibrant shade adds a playful and energetic vibe to your scooter's look, making it stand out in the crowd.
Premium Build Quality: Crafted with precision, our fenders are engineered to withstand the test of time. Made from top-notch materials, they offer durability and longevity, even in varying weather conditions.
Effortless Installation: Attaching our Green Fenders is a breeze, eliminating any installation hassle. Designed for easy attachment, you'll have them securely fitted to your E-Riderrs in no time.
Effective Protection: Shield your scooter from dirt, splashes, and debris with our fenders. They serve as a protective barrier, keeping your scooter looking fresh and safeguarded during all your rides.
Customization Possibilities: Infuse your E-Riderrs with your own unique style by adding our Green Fenders. Customize your scooter's appearance and make a bold statement that reflects your individuality.
Upgrade your E-Riderrs scooter's style and protection with our Green Fenders. Whether you're exploring the city streets or embarking on off-road adventures, these fenders seamlessly blend color and functionality. Don't miss the opportunity to transform your scooter's appearance - order now and give your ride a dynamic and captivating edge!