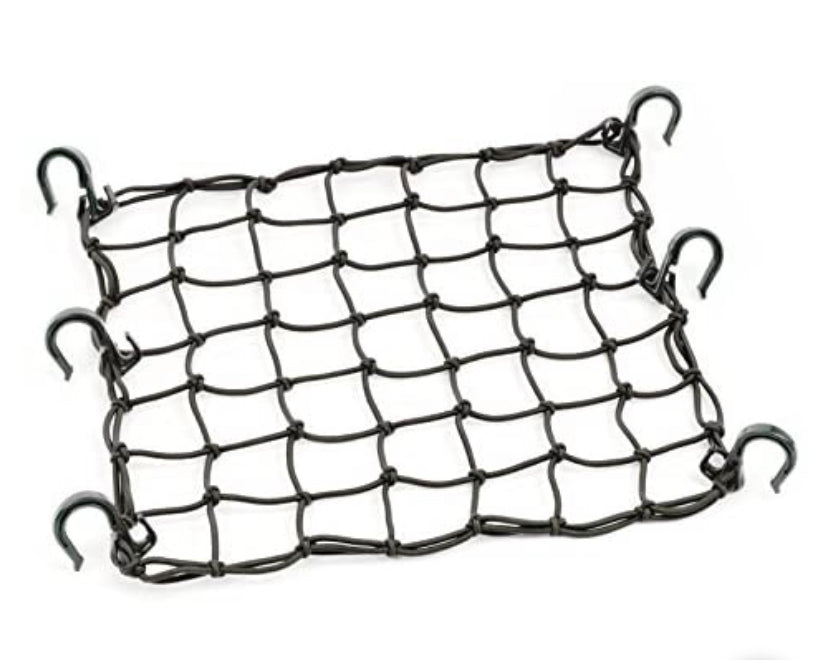 Cargo Net
Secure Your Cargo with Ease Using Our Versatile Cargo Net for E-Riderrs!
Keep your belongings safe and organized during your rides with our reliable and flexible Cargo Net. Designed specifically for your E-Riderrs, this essential accessory ensures that your items stay in place and securely fastened in the basket.
Key Features:
Custom Fit: Our Cargo Net is designed to perfectly fit the dimensions of your E-Riderrs' basket, providing a snug and secure hold for your belongings, whether you're cruising through the city or exploring off-road trails.
Durable and Stretchable: Crafted from high-quality materials, the Cargo Net offers exceptional durability and elasticity, allowing you to stretch it over various-sized items and ensuring a reliable grip.
Hassle-Free Installation: With its easy-to-use design, the Cargo Net can be quickly and effortlessly attached to your E-Riderrs' basket, saving you time and effort before each ride.
Versatile Use: Whether you're carrying groceries, bags, or other items, our Cargo Net offers a practical solution to prevent items from shifting or falling out of the basket, providing you with a worry-free riding experience.
Secure Riding Experience: Enjoy peace of mind knowing that your cargo is securely fastened with our Cargo Net, allowing you to focus on the road and enjoy a smooth and safe journey.
Upgrade your E-Riderrs' cargo-carrying capabilities with our dependable Cargo Net. Say goodbye to items slipping or falling out of your basket and ride with confidence knowing that your cargo is securely held in place. Order now and experience the convenience and peace of mind our Cargo Net provides!