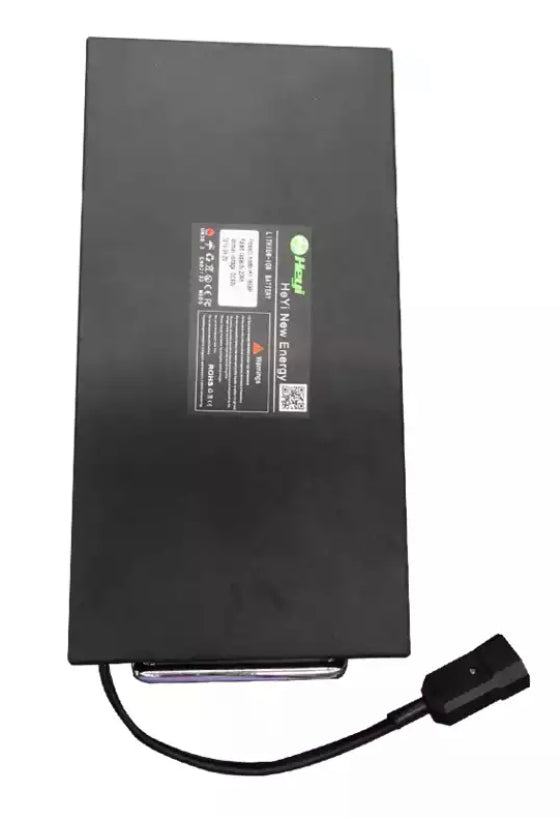 Lithium Battery - 12 Mile Range
Introducing the Removable 60V 12Ah Lithium Battery: Unleash Extended Power and Versatility
Experience the next level of convenience and performance with our Removable 60V 12Ah Lithium Battery. Designed to elevate your E-Riderrs experience, this cutting-edge power solution comes encased in a waterproof housing, ensuring reliability in various weather conditions.
Key Features:
Extended Riding Range: With a powerful 60V capacity and 12Ah energy, this battery provides you with an extended riding range, allowing you to explore further and conquer more terrains.
Quick and Easy Removal: The removable design enables effortless installation and removal, giving you the flexibility to conveniently charge your battery indoors or swap it out for a fully charged one on the go.
Waterproof Protection: Built to withstand the elements, the waterproof casing ensures your battery remains protected against rain, splashes, and other outdoor conditions, extending its longevity.
Seamless Integration: Engineered to seamlessly integrate with your E-Riderrs, the battery aligns effortlessly with your scooter's design, maintaining a sleek and streamlined appearance.
Reliable Performance: Utilizing advanced lithium-ion technology, our battery delivers consistent and reliable power, allowing you to confidently take on various terrains and adventures.
Upgrade your E-Riderrs experience with the Removable 60V 12Ah Lithium Battery. Unlock extended riding capabilities, enjoy convenient charging, and ride with confidence knowing that your battery is protected by a waterproof case. Elevate your journey and embrace the power of limitless exploration.
rience!